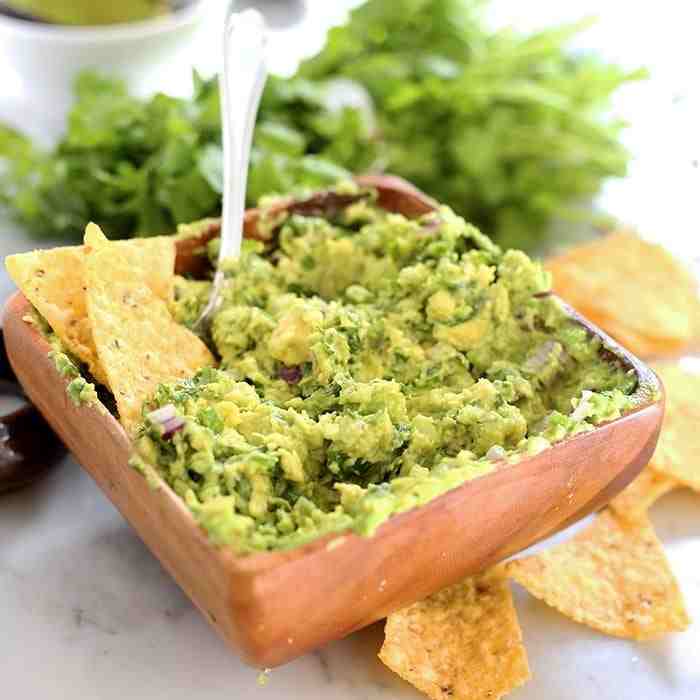 Have you ever wondered how to make an authentic guacamole recipe like they do in the avocado region of Mexico? This recipe was passed down from traditional Michocan chefs that will surprise you with its simplicity and flavor!
When Lee, Linley and I visited Uruapan, Mexico, we anticipated we'd be eating some delicious guacamole, but what we didn't anticipate was that it would be life-changing guacamole. I'm fairly certain we ate our weight in guac within a day of our arrival, but we also discovered that for our entire lives we'd been making guac all wrong.
It turns out that somewhere between Uruapan, Mexico and the US border, garlic and lime got added to the guacamole mix. I'm guilty of adding both, and truthfully it's pretty damn good, but after trying authentic guacamole made by 3rd generation Mexican chefs, I can safely say that they are so not necessary.
So what goes into traditional guacamole? Even I was shocked at how simple the recipe is: Avocados, Mexican onion (usually gigantic green onions), serrano pepper, cilantro and salt.
Watch me make this authentic guacamole recipe
The traditional chefs of Uruapan explained to us that simple is best because garlic and lime take away from the fresh taste of the avocados. And you know what? They're right. Granted, avocados that were picked fresh from your backyard are going to taste pretty damn good, but there was no denying that their recipe totally trumped the typical North American version.
But here's where we need to chat about the life-changing part of this guac….the cilantro.
As I'm sure some of you may have noticed if you've been following THM for some time, my recipes almost never include cilantro. Cilantro option? Sure. But never mandatory.
Until now…

The cilantro in this recipe is 100% mandatory. And honestly, it makes the recipe (besides fresh avocados obviously!). Something about the cilantro in this traditional guac made me realize that I need to get over this little cilantrophobia of mine.
True, cilantro can occasional taste like I'm eating a bar of soap, but I think when mixed well it actually can really help bring out the flavor of a dish. It also made me realize that all those times I exclude cilantro or ask a waiter to leave it out, I may have actually been doing myself a disservice.
It's funny how the fears or distastes we develop over our lifetime can actually hold us back from experiencing and embracing new traditions.
Now before I go off on a tangent about how you need to ditch the garlic and lime and embrace this simple, and cilantro-filled guacamole, I have to acknowledge that this authentic guacamole was taught to us within the avocado region of Mexico.
As I've discovered from talking to a lot of different Mexicans along our trip and beyond, it's become clear that everyone and their Mom has their own version of "traditional" guacamole. I have no doubts that I'll probably get eaten alive (pun intended) by some of you self-proclaimed guacamole experts, but if a 3rd generation traditional Mexican chef as declared by UNESCO tells me that this is how to make traditional guacamole, you better damn well believe her.
So here's to tackling our phobias and embracing new traditions! And to of course to the beauty that is the avocado. GOD BLESS.
Traditional Guacamole Recipe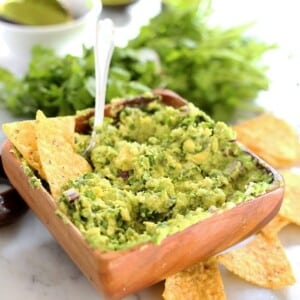 Author:
Prep Time:

5 minutes

Total Time:

5 minutes

Yield:

6

servings

1

x
Scale
Ingredients
3

large avocados

1/2 cup

finely chopped onion (mexican green onion is ideal but red onion works great!)

1/4 cup

chopped cilantro

1

serrano pepper, chopped (seeds included)

1 tsp

sea salt, or more to taste
Instructions
Mash up avocados in a bowl.
Add in onion, cilantro, pepper and salt and stir to combine.
Serve with tortilla chips, vegetables or dipper of choice.

---
Disclaimer: This post is sponsored by Avocados from Mexico – Canada. Thanks for supporting the brands that help make THM possible and bring more delicious recipes your way!
---
Like this recipe? Here are a few others you might enjoy:
JOIN THE THM NEWSLETTER
Join 10,000+ members of the THM Community to get access to exclusive recipes, healthy lifestyle tips and behind-the-scenes news from our team!